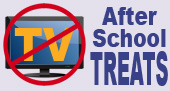 Preschool Writing:
Alphabet Play-Doh
Today's Snack: For a special treat, make chocolate chip cookie dough, and give each child a "blob" of uncooked dough. Give each child a napkin or piece of waxed paper. If their hands are clean, they can form the cookie dough into alphabet letters before they eat it. Make sure to wash hands afterwards, too, and wash down with a glass of cold milk.
--------------------
Supplies:
Play-Doh or modeling clay
Remember how important it is for children to learn through play. Since Play-Doh is everybody's favorite, this is a great way to let children explore the alphabet letters and have fun doing it.
It helps to have the alphabet posted on the wall, or written on the board, while the children are working with the Play-Doh.
Teach children how to roll Play-Doh between the palms of their hands to make even cylinders similar to the lines and curves of the alphabet letters.
Let the children form letters out of Play-Doh for as long as they'd like. They can try making their names or different words, or just work with various letters.
When they have made several letters, it's fun to blindfold them or have them close their eyes, walk them around the room a little bit, and then bring them back and have them feel a Play-Doh letter. See if they can guess what it is just by feeling its shape!