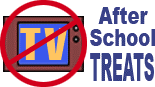 Writing: Word Choice
Synonym Bingo -- SYNGO
Today's Snack: What's a better snack for a bingo game than a Checkerboard Sandwich? Take one slice of whole wheat or pumpernickel bread. Spread softened and stirred Philadelphia cream cheese spread on it. Piles a few slices of fresh shaved turkey on top, with some thin slices of tomato and a leaf of lettuce if you wish. Put the white piece of bread on top. Cut this sandwich into nine squares -- cut three slices, and then cut each slice in thirds. Arrange these nine mini-squares on a plate in an alternating pattern, like a checkboard. Enjoy with chocolate milk - so tasty, it'll make you say, "Bingo!"
--------------------
Supplies:
Print out a gamecard (see below)
on a piece of plain white cardstock for each student;
see instructions for preparing gamecards, below
NOTE: an adult or designated student should
make the "gamecards" in advance
This game is best with at least 4 players,
so make at least 4 "gamecards"
or one for each player with a few extra
Thick and thin colored markers
M&Ms for use as "gamepieces" -
give each student one single-serving packet
for the game, and a second one to eat during the game!
It's a good idea to have several prizes on hand for
the winner of each round - maybe a slightly larger M&M sack?
One person designated as the "SYNGO" caller
Print out this Treat, cut the synonym groups apart, mix them up,
and then pull them out at random and call the synonyms, below
            A "synonym" (pronounced SIN oh nim) is a word that means the same as, or nearly the same as, another word. Most words in English have at least one synonym. For example:
            Run                             Jog, trot, dash, race, sprint
            Correct                       Accurate, right, precise, true, exact
            Laugh                         Giggle, chuckle, snicker, roar, guffaw
            Synonyms are so close in meaning to each other that you can probably use them in place of each other. But the fun part is in making excellent word choices that precisely and accurately communicate the meaning, tone and feeling of the sentence.
People with bigger vocabularies tend to be better communicators and better writers. They know more synonyms, so they have more options - more tools in the writing toolbox.
It is a good writing skill to be able to choose among many equally-acceptable synonyms and select the very best one - the one that comes the closest to conveying your exact meaning.
            For example, everybody pictures what it means to "giggle" at a joke in a movie, but if you wrote that the audience "roared," that's a completely different feeling and environment.
To "giggle" is quiet; to "roar" with laughter is loud.
A person might "snicker" at himself - half-laugh, usually behind your hand to hide that you're quietly laughing -- if he clumsily trips on a sidewalk without falling down. But he might "guffaw" - laugh boisterously and unrestrained, the kind when tears run down your face - if he tripped, fell face first into a mud puddle, and came up with a thick layer of mud on his eyeglasses!
See how much meaning you can get across by choosing just one word over another?
It's like a game. So, to build your synonym power, let's play everybody's favorite game - BINGO! Only instead of numbers, we're going to call out synonyms. So let's call our game "SYNGO"!!!!
Someone has made your SYNGO cards in advance. You should see five columns across, marked S - Y - N - G - O across the top. Then you should see five rows of five words each. There should be a different word in each box. The center square should be marked "FREE."
Note to the Adult or Student Designated
To Make the Gamecards
To make the gamecards, print out the grid at the bottom of this Treat on plain white cardstock. Write the word FREE in the middle square of the five rows of five.
Now look at the 25 synonym groupings, below.
Start in the upper left-hand corner. Don't write the main synonym, in bold. That's the word that you are going to call out. Instead, start with the first synonym on the list, and write that in the upper left-hand corner box. So, for the first grouping, words that are synonyms with Alert, you would write Attentive in the box on the first gamecard.
Then you move on to the next box and the next grouping. For the next box, write the first synonym in the list for the second synonym grouping. The main synonyn, that you will call out, is the word Angry, and the first synonym, that you will write on the gamecard, is Mad.
Then move on until your first card is filled. Start on the second card. Be careful not to duplicate any two cards. Once you have finished one card, make sure that you don't have the same two words in the same boxes on any two gamecards. This shouldn't be a problem, since you have 25 synonym groupings, and only 24 boxes to fill, with the "FREE" space in the middle.
These groupings should make enough gamecards for up to 100 students without duplicating a card.
Now Let's Play!
As with regular BINGO, everybody can put an M&M on the "FREE" space. After that, you have to listen to the SYNGO caller call out the synonyms, one at a time, and look at your gameboard and decide if you have a synonym for that word.
If you see a word that is a synonym to the one that is called out, put an M&M on it.
 When you get five across, five up and down, or five diagonally, you have a SYNGO. Call out "SYNGO!" and check your selections with the caller. At the end of the game, as a group, you can go over all of the synonyms for each word, either by writing them on a chalkboard, or projecting this list up on a big screen with a laptop.
Have fun, and if you like this game, you can make more lists of synonyms, new gamecards, and play some more rounds!
Alert
Attentive
Wide-Awake
Watchful
Vigilant
Angry
Mad
Furious
Upset
Annoyed
Irritated
Aggravated
Exasperated
Boss
Chief
Leader
Head
Employer
Calm
Peaceful
Serene
Tranquil
Placid
Defeat
Conquer
Beat
Overcome
Overpower
Subdue
Eat
Consume
Devour
Dine
Feast
Feed
Graze
Finish
Complete
End
Conclude
Terminate
Wind Up
Good
Fine
Excellent
Outstanding
Admirable
Respectable
Splendid
Hide
Conceal
Disguise
Cover Up
Camouflage
Idea
Thought
Concept
Impression
Notion
Join
Connect
Attach
Link
Fasten
Unite
Couple
Knock
Bang
Tap
Rap
Thump
Lead
Guide
Direct
Conduct
Steer
Take care
Mix
Combine
Blend
Merge
Mingle
Stir
Whip
Noise
Din
Uproar
Clamor
Racket
Hubbub
Obvious
Evident
Apparent
Clear
Plain
Part
Piece
Section
Portion
Segment
Fragment
Fraction
Share
Reason
Purpose
Cause
Motive
Explanation
Serious
Solemn
Grave
Somber
Sober
Tough
Sturdy
Durable
Rugged
Stout
Urge
Coax
Encourage
Goad
Prod
Spur
Verify
Prove
Confirm
Substantiate
Corroborate
Walk
Stroll
March
Hike
Stride
Trudge
Shuffle
Strut
Yell
Shout
Scream
Shriek
Screech
Bellow
Zone
Area
Region
District
Belt
S      Y    N    G     O