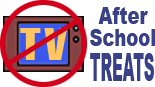 Writing: Word Choice
Writing in Color
Today's Snack: Trix cereal may be the most colorful treat around. Have a bowl  with the most colorful juice in your fridge - Orange? Cranberry? Grape?
--------------------
Supplies:
Thesaurus | colored pencils
The words on a page may be in black type like this. But if they are good word choices, they will be in COLOR in the reader's brain!
Here are some common words that are boring and tired. Next to each one, write another word that you could use, instead, that would be more exciting, colorful, vivid and memorable.
Consult a thesaurus if you wish. It's a great idea to come up with three to five alternative words, and then choose the best one.
Using a set of colored pencils, write each of your substitute word choices in a different color. Use a different typeface style, or font, too. Give the typeface personality, just like your better word choice!
Good
Cool
Bad
Sad
Very
Mad
Happy
Fun
Went
Is
Said
Nice
Ate
Threw
Put
Ran
Saw
Laughed
Moved
Shoes
Car
Dog
Food
House
Very hot
Very fast
Very high
Very scary
Very loudly
Very tired