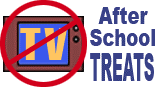 Trace Your Way to Smoother Writing
            Today's Snack:
--------------------
Supplies:
Print out this page | No. 2 pencil, colored marker, colored pencil, pen
You can get words down on paper much faster if you take time to practice your handwriting. Here's a fun way to build up those muscles in your hand and arm, and sharpen your vision, so you can get really good at handwriting fast.
            You can trace inside, or around, various shapes to build your skills. For example, try tracing within the letters of the title, above.
Now along the lines of these shapes. You can use a No. 2 pencil, a colored pencil, a ballpoint pen or a colorful marker. The more time you spend looking at something and tracing it, the better you will be with your writing tool, whatever it is. That helps you get words down on paper faster and better. And that makes you a faster, better writer!