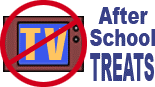 Scribbling, Doodling & Different Strokes
            Today's Snack: It cannot be denied that scooping out a container of pudding onto a plate, and letting a child "doodle" with his or her hands for a while, then lick those same hands, is a childhood delight that you just have to allow at least once in their young lives. Good luck! You might survive it better if you get out an old bib, or put a towel around that young neck. A young child might enjoy one more snacktime with milk from a sippy cup, just for fun.
--------------------
Supplies:
Crayons | plain paper | coloring books
You can become a faster writer by spending a lot of time coloring, scribbling, doodling and drawing, with crayons, markers and pencils, on coloring books, scratch paper and the corners of your assignment notebook.
            What? Isn't scribbling pointless and babyish? Not at all! Strengthening your "fine-motor" muscles is one of the most powerful writing exercises you can do, even though you don't write a word.
The main benefit, besides providing fun and a sense of accomplishment, is that scribbling develops your hand and arm muscles, and your all-important hand-eye coordination, which are important for handwriting.
            The more quickly and accurately you can make various kinds of strokes on paper, the more quickly and accurately you can write the alphabet letters. The more quickly and accurately you can write alphabet letters, the faster you will be able to write words that are legible.
Children with good handwriting can get their ideas down on paper better, clearer and faster. That causes less frustration, and encourages them to write more!
Keep scratch paper and writing tools available while you're watching TV, too. Scribble while you watch!
When you've had fun scribbling and doodling, you can do a little more focused work on your handwriting skills. Using a notebook or lined paper, work on the strokes you need for good alphabet letters. Fill three lines each for these six basic strokes, and then go back and circle your best one on each line:
|  __  /  \  O  C