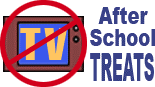 Preschool Writing:
Rhyme-Acting
Today's Snack: If you don't have time to make Hot Cross Buns from scratch, never fear: you can make just about any kind of warm bread for a child, and they'll go crazy with joy. Nothing beats a little butter and a little grape jelly on a warm bun. Mmmmm! And how about cocoa to go with?
--------------------
Supplies:
Book of nursery rhymes
There's no more important tool in the preschool "arsenal" than a book of old-fashioned nursery rhymes. They are the time-tested method of sparking a child's love for language and sounds.
Preschool kids adore listening to nursery rhymes, exaggerating the simple rhythms and singing the tunes that often have been set to the words. Rhyming is a wonderful form of language play, which instills an awareness to the "phonemes," or segments, that form the sounds in the syllables which rhyme.
Understanding phonemes is a real gateway to capturing the meaning of written text by reading, and being able to "encode" those same phonemes by writing.
Nothing is as exciting for a preschooler as getting to "act out" a nursery rhyme for an audience. This is especially fun for wiggle worms, who don't like to sit still while being read to. You can read the nursery rhyme while your child acts it out.
This method is a great way for your child to practice listening, so that your child acts out the nursery rhyme in the right sequence.
If you can arrange to have grandparents, siblings or others watch your preschooler act out his or her favorite nursery rhyme, it will make a fun memory.
You can set out props such as a couple of candlesticks (NOT LIT!) for "Jack Be Nimble," or a couple of bread rolls and pennies for "Hot Cross Buns."
Be careful! It's addictive!