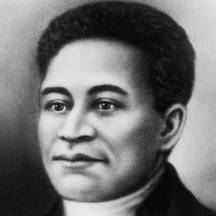 Writing + History
Historical Plaque - Crispus Attucks
Today's Snack: In memory of today's hero, Crispus Attucks, have a big bowl of Rice Krispies with milk and just a little pinch of sugar, or a Rye-Krisp cracker with a slice of cheese.
--------------------
Supplies:
Posterboard, cardboard, butcher paper or construction paper | scissors
Marker pen or calligraphy pen | scratch paper and pencil
Did you know the very first person to lose his life in the American Revolution was black? His name was Crispus Attucks. Historians believe he might have had a black father and a Native American mother. They think he might have been a runaway slave who was working on merchant ships anchored in the Boston area.
He is honored as a courageous, bold man who inspired others to oppose unfair treatment of the early American colonists by the powerful British.
For leading a group of citizens who defied mean British soldiers more than 250 years ago in Boston, Mass., Crispus Attucks was shot twice in the chest, and died. Reportedly, the soldiers hit a young boy who had complained about an unpaid barber bill, so the early Americans threw snowballs and debris at the soldiers.
Attucks' extremely unfair death in what has since been called "The Boston Massacre" in 1770 helped spark other early Americans to revolt against the oppressive British. They eventually won our freedom from Great Britain by waging the Revolutionary War, beginning in 1776 with the Declaration of Independence.
There already is a big monument, or memorial plaque, about Crispus Attucks and the other four men who died that day, in Boston. Why don't you make one of your own to share with others about this great American patriot?
A monument is a memorial to a person, place or thing to help the rest of us remember what was important about that person, place or thing. Often, a monument will take the shape of a tablet, or tombstone, with a rounded top and squared-off bottom. There aren't a lot of words on a monument - just enough to give you the main facts to help you remember the key point.
Read, or have someone read to you, about Crispus Attucks on these three links. Take notes on the year he was born, the year he died, the date of the Boston Massacre, and why what happened to him that day is important:
http://en.wikipedia.org/wiki/Crispus_Attucks
http://www.fold3.com/page/747_african_american_patriots_of_the/
http://crispusattucks.org/about/who-was-crispus-attucks
Now cut a piece of paper or cardboard into the shape of a monument or tombstone. Using formal lettering, write the name of Crispus Attucks across the top.
If you like art, you can try drawing his picture underneath his name.
Next, record his life span - the year he was born, a hyphen, and the year he died.
Now for the most important part of the monument - a paragraph that tells why he is important to remember, and what happened to him at the Boston Massacre. You might want to practice on scratch paper first, to make sure you'll have room for everything you want to write on the monument. Don't just copy what somebody else wrote. Put it in your own words!
Using your best handwriting, or calligraphy if you know it, write the paragraph on the monument.
You can add some curliecues, flourishes, a drawing of a three-cornered hat (the fashionable hats that everybody wore back then), an eagle symbolizing freedom, some muskets, or anything else you'd like, up and down the sides and at the bottom of the monument.
Be sure to share your monument with your friends and family, especially if you have a Fourth of July get-together. You'd be surprised how many people have never heard of Crispus Attucks. Now's your chance to teach them a little history!