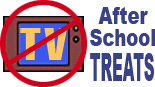 Writing: Editing
Use Active Voice, Not Passive
            Today's Snack: Let's make Bagel Faces! Gather together a bagel, cut in half, and soften an ounce or two of cream cheese. Spread the cream cheese on the bagel halves. Depending on what veggies are in your fridge, you can use them to decorate your "face." Use sliced black olives for the eyes, a half-circle slice of cucumber plunged into the cream cheese so that it sticks up and out for the nose, and a thin slice of red bell pepper for the smiling mouth. Grated carrot makes funny hair, and toasted sunflower seeds make funny freckles. You might also make red cheeks with a cherry tomato sliced in half.
--------------------
Supplies:
Barbells or weights
Lined writing paper and No. 2 pencil
Start off by lifting weights and experiencing your own strength.
Now, for discussion:
Are your ideas weak? Are you a wussie? Do you lack confidence and energy, and therefore nobody should pay any attention to you?
            No?!?!?
Well, then, why do you write that way?
            A common writing error is to write in a passive voice, rather than an active one. Passive writing is weak, indirect, ambiguous and wordy, while active writing is strong, vigorous, bold and concise.
            Here's a comparison. Which is better?
"There is a whole lot of snow kind of covering the ground"
or
"Snow blanketed the ground."
How about these two. Which is better?
"He liked the painting which was done by me"
or
"He liked my painting."
And how about these:
"The whistle of a train could be heard by us"
or
"We heard a train whistle."
            See how the active phrases - the second ones - are more direct, shorter and clearer?
            Cure yourself of the habit of starting sentences with "There is" or "There are." That's a red flag of wordiness and passivity.
Avoid the verb forms of "is" because they're just too passive and bland.
Also watch out for expressions with the word "by," as in "It was left by me" instead of "I left it." If you notice that you've written something in the past tense, and it includes the word "by," then you're probably in passive mode. Get out of it! Be active!
            Last, watch yourself for wordiness; learn to cut to the chase.
Example: "The next thing we knew, our mistake became apparent, and the reason was, we had not done what we should have done." Instead, write: "We goofed."
Now, number from 1 to 5 on your paper, leaving several lines free, and write a sentence that is totally wordy and passive . . . and then rewrite it in a healthy, active style.
Repeat four more times, so that you end up with five weak, sissy sentences . . . and five that are much stronger and better.