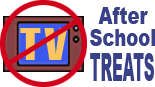 Writing: Editing
Writing That Rocks
Today's Snack: Most people think peanut butter "rocks." Spread some on apple slices, and sprinkle Rice Krispies on top. Down with a glass of chocolate milk. Yep! It rocks, all right!
--------------------
Supplies:
A DVD with a favorite rock song
Lined writing paper and No. 2 pencil
            Play a favorite rock music song. Define what it is that makes a great rock song: great vocals? distinctive drumbeat? a guitar solo? A unique story or emotion in the lyrics?
            What are the elements that are "musts" in a great rock song?
            Do you have your list? Discuss it.
            Who knew that you could make a list of what makes a song "rock"?
            But it's the same way with writing a good sentence. There are certain "must-have's" to produce a sentence that rocks.'
            And here they are:
A complete sentence has these five things:
1. Starts with a capital letter.
2. Has ending punctuation (. ? !).
3. Has a subject - the person, place, thing, quality or idea that the sentence is about.
4. Has a verb - the action of the subject of the sentence.
5. Makes sense.
Got it?
Now write five sentences that "rock" about music. Make sure your five sentences all have the five "musts."
When you're done, play that great rock song again . . . and you may appreciate what's great about it, just as you appreciate great writing that has all the key elements in it.