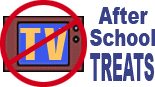 Writing: Voice
Changing Your Slant
Today's Snack: Make a smoothie (6-oz. container of yogurt, a splash of orange juice, half a cut-up banana and a handful of frozen strawberries) in the blender. Add more o.j. if it's not runny enough. Then drink it . . . at a SLANT!
--------------------
Supplies:
Print out this Treat | No. 2 pencil
Writers have to be flexible and adaptable in accomplishing each kind of writing task. You can't use the same style, mood, tone and "voice" for everything you write. You aren't a machine, after all!
You will make completely different writing choices when you change the place you are coming from - your angle - your motivation, or "mo." Writers call that a "slant" - a direction for the writing.
So let's work on our ability to change the "slant" of any given sentence. Let's take a plain sentence, and change it to a completely different tone.
You can invent new reasons and motivations for the actions to fit the new purpose of the writing. You can choose certain details to include with one slant that would be inappropriate for another.
Naturally, you'll select different words to go with each version. That will help you communicate better! Then let's look at what completely different sentences we create.
First, here's an example of an original sentence and different versions. Circle words that you think show the tone well:
Original Sentence:
            The bird hopped onto the branch.
Dramatic:
            The eagle's glistening talons seized the quivering limb.
Humorous:
            Still clutching Mrs. Fuddbuster's diamond ring in its beak, the escaping chickadee suddenly paused to perch on a branch, and, incredibly, seemed to smile and wink at her.
Surprising:
            The legless bird gradually pulled itself along the branch, using its beak and wing.
Sad:
            The bird hopped onto the branch, not seeing the cat poised in the crotch of the tree, and met its doom in the jaws of the invader.
Frightening:
            The vulture landed with an ominous "whomp!" next to me as I stared at the cow's carcass.
Mysterious:
            Out of the corner of my eye, I saw that a bird had hopped onto the branch outside the window. But that was no bird. That was a South American jungle parrot!
Romantic:
            The cascade of downy white feathers rustled gracefully onto the branch, agleam with thousands of diamonds, or perhaps drops of morning dew.
See how much different the mood and tone is with each different slant?
Now you write new versions of this basic sentence. Choose your favorite. Then write a story that includes that sentence. Use that sentence as a centerpiece of your story, connecting it to what happened before, during, or after this happened:
Original Sentence:
            The dog came toward me.
Dramatic:
Humorous:
Surprising:
Sad:
Frightening:
Mysterious:
Romantic: