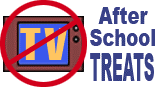 Vocabulary:
A Garden of Root Words
Today's Snack: Have a handful of everybody's favorite root vegetable - carrots! Go all-orange with a glass of orange juice.
--------------------
Supplies:
Roll of plain white shelf paper
Colored markers | masking tape or sticky-tack
Here's a fun way to study root words and the connection between words that share the same root word.
Make a long piece of shelf paper into a garden picture by drawing the "earth" with a long brown line. Underneath, every few inches, write a different root word, with a few words of definition.
Here are some, below, to get you started.
From each root word, draw a vertical line upward over the "soil line" and draw a flower stalk. You might use a brown marker to the soil line, and a green marker for the plant parts that are above ground.
At about the same height as a flower would blossom, write a word that includes that root word, and draw flower petals around it, to show that the longer word sprang from that root word "under ground."
Now think of a second or third word that share that same root word, and draw one or two more "flowers," forming a clump, showing that all of the above-ground words are related to the same root word.
You can draw leaves and write in additional words for each root word.
Try to have at least 20 root words, each with at least two "flowers."
| | | |
| --- | --- | --- |
| Root | Definition | Examples |
| Hydra | Water | Hydration, hydrofoil |
| Therm | Heat | Thermometer, thermostat |
| Graph | Write | Graphics, biography |
| Dict | Say | Dictionary, dictation |
| Geo | Earth | Geology, geography |
| Path | Feeling | Apathy, sympathy |
| Vit | Life | Vitamin, vitalize |
            More examples can be found in just aboyut any writing reference book. Here are some more:
            Aud (to hear, listen) - audible, auditorium
            Bibl (book) - Bible, bibliography
            Bio (life) - biography, biology
            Chrom (color) - chromosome, monochrome
            Chron (time) - chronological, synchronize
            Corp (body) - corporation, corpulent
            Derm (skin) - dermatology, epidermis