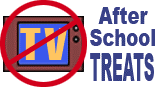 Vocabulary:
Lang-ticipation
Today's Snack: "Anticipation" means "to look forward to." Probably the aroma in the kitchen that gives you the most anticipation for a delicious snack is the aroma of freshly-popped popcorn. So make some now, and don't wait too long to eat it or the anticipation might be very hard on your nerves. Team your popcorn with orange juice on ice for a healthier alternative to a soft drink.
--------------------
Supplies:
Scratch paper | lined writing paper | No. 2 pencil
Before you cook a meal, you gather all the ingredients in advance. If you want to jazz up a piece of writing, it helps to collect a lot of "ingredients" - vocabulary words - before you write. You may not use them all, but they're nice to have on hand.
Call it "language anticipation," or "lang-ticipation" for short. List words that match your topic, and you'll liven up the message with interesting, specific words.
            Let's say you're writing a 3-paragraph report on sailing. You could go to a library book or consult a search engine about sailboats, and start listing words:
| | | | |
| --- | --- | --- | --- |
| Tacking | Mainsail | Side Rail | Helm |
| Zigzag | Jib | Hull | Fore |
| Airfoil | Boom | Keel | Aft |
| Mast | Deck | Cockpit | Rudder |
            Those words would make your report more interesting and authentic, with richer, more vivid language.
            If you're writing a fictional story, you will want to think ahead to list words to describe your setting, characters, problem or conflict, action and resolution.
Now, pick a topic to write about that you know a lot about. On a piece of scrap paper, "lang-ticipate" the vocabulary words you may use in the story. Just list as many as you can think of.
Then write the story! Give yourself one point for each vocabulary word that you actually used in your story, and that you "lang-ticipated."
See? Writing is easier when you plan ahead, and set yourself up for success.