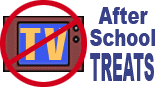 Descriptive Writing:
Using Your Five Senses
Today's Snack: See the popcorn. Hear the popcorn pop. Smell that incredible fresh popcorn smell. Pick up a small handful . . . and taste that incredible fresh popcorn taste. Yummmm! Wash it down with ice water.
--------------------
Supplies:
Pencil or pen | one piece of scrap paper and one piece of lined paper
Project the story prompts on a big screen or print out the lower
part of this Treat and share with students
            Descriptive writing is like a download from your imagination into someone else's. To describe an experience or a scene in writing requires you to imagine that you are there, so that you can tell someone else all about it in enough detail to make your READER feel as though he or she is there, too.
            To successfully describe things in writing, you have to unleash the information-gathering power of your five senses. To describe things, think what your five senses were telling your brain, or would be, during that experience, event or situation. Then choose the most vivid or important impressions to include in your story.
            We rely a lot on our vision, so more than likely most of your description will center around things that you saw. But there's power in describing details picked up by your other senses, as well, and including at least one detail involving each of your five senses is a great way to round out a descriptive story.
            So, for example, if you were describing a championship basketball game, but the point was to describe the whole experience of the game, and not just the basketball action, you could describe what you . . .
      SAW:
§ One second-string player coming off the bench to score a game-high 17 points, and after the game, his parents came down on the court and they all hugged and cried
§ 200 screaming fans in red on one side of the gym, and 200 screaming fans in blue on the other
§ Your team's star player making a breakaway, jumping high in the air right at the basketball, and stuffing the ball for the winning score
HEARD:
§ The other team's coach screaming at the ref to get a foul called, and instead having a technical called on him for being unsportsmanlike
§ "I couldn't believe how much better we've become as a defense," your coach said in a post-game interview. "Seven steals in one game is a record for our team."
§ An ambulance's siren sounded mournfully right outside the gym door as emergency medical personnel carried the point guard out on a stretcher to have his season-ending broken leg treated.
TOUCHED:
§ The winning team ran around the court and slapped each fan a high-five, thanking them for their support all season.
§ A poignant hug between the losing team's coach and star senior center revealed how much this game meant to them.
SMELLED:
§ The overheated arena, full of excited and red-faced fans, smelled like an old gym shoe.
TASTED:
§ A business owner who supports your school gave out free hot dogs to the first 100 fans in an attempt to draw a larger crowd to home games.
What other things can you imagine that you would notice, through your five senses, at a big basketball game, to add to the list of things you can include?
Now let's practice descriptive writing. First, on a piece of scrap paper, draw your face with eyes, nose, mouth and ears, and one hand. When you write your descriptive story, draw an "X" through your nose once you've included at least one detail that has to do with your sense of smell, and "X" out your ears when you've included one detail or quote that you could obtain through your sense of hearing. Continue until you've used all five senses in your story.
Ready? Now choose one of these story prompts, and write a descriptive story that includes at least one detail collected through each of your five senses. Try to have at least five paragraphs, with a beginning, three paragraphs of details, and an ending paragraph that sums it up.
CHOOSE ONE PROMPT FOR A DESCRIPTIVE STORY:
*You are walking home from a late movie, and you have to cut through a cemetery. Describe your experience.

*You spent the day with your grandfather. Tell about your day.

*You are visiting the zoo. You come across an animal that no one has ever seen before. Describe the animal.

*If Superman came in and replaced your principal for a day, what would school be like? Tell about it.

* You have 7 friends coming to your house to spend the night. What do you do to get ready?

* Imagine you are walking outside. A spring storm is coming. Describe for your classmates what you see, hear, smell, taste, and touch.

* Everyone needs help sometimes. Write a story about what happened one time when someone helped you.

* Most of us have worn something we did not want to wear. Write a story about what happened one time when you had to wear something you did not want to wear.

* Everyone has lost something. Tell about what happened the time you or someone else lost something.

* Imagine you are on a magic carpet that takes you anywhere you choose. Think about where you would go and what you might do. Write a story about your adventure.

* Pretend you are asked to spend the afternoon babysitting Howie, a pet monkey. Before you begin to write, think about the fun and adventures you have with Howie, the monkey. Now write a story about what happened the afternoon you babysat Howie, the monkey.

* You are home babysitting your little brother. When you go out to get the paper, the door shuts and locks. Your baby brother is alone inside. Tell what you do.

* You just got a new sled. When you wake up the next morning, it has snowed 2 feet! Tell about your day.

* You find a baby bear on the school playground. Tell about that day at school.

* Describe your feelings on waking up and seeing snow on the ground on a school day.

* Describe your best dress-up outfit of clothing.

* Describe how your mother looks when she smiles at you.

* Describe how our pet behaves when it is being playful. Pretend if you don't have one.

* Describe how your classroom will look the day after the last day of school.

* Think back to your first day in school (first grade or kindergarten) and relate what happened that day.

* This weekend you are going to the Mall. Tell all that you will do.

* Your little brother or sister is sick and can't sleep. Tell him/her a story that will help him/her go to sleep.

* You have just been rescued after being lost for 24 hours. Relate what happened that made you scared.

* Tell what happened when you felt proudest of yourself.

* Your penpal from Antarctica sends you a penguin. Tell about your first day with your new pet.

* Your classroom's pet snake got loose inside the school. Tell what happened.

* You and your mother are home alone when suddenly a tornado is spotted coming toward your house. Tell about your experience.