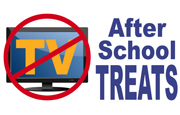 K-2 Writing:
Squiggle Story
Here's a fun way to inspire children's imaginations! This two-part activity features making a squiggle with a piece of yarn and some paint, and then inventing a story about that squiggle.
Each child should roll up sleeves or wear a paint shirt. Place the blank drawing paper nearby. You can gently push the yarn in the paint with one finger, while you draw the other end of the yarn away from that finger with the other hand, to get enough paint on the yarn to show up on the paper. Then "stamp" a squiggle on the plain drawing paper, and let dry.
As the squiggle dries, each child should imagine what character in a story that squiggle could be, and plan a story that he or she can write. Maybe the squiggle will remain as is, as the star of the story. But maybe the child would like to use markers or colored pencils to make the squiggle part of something else that will be the star of the story. For example, a squiggle could turn into a fire-breathing dragon, or a horse and rider, or a magic shoe that travels the world!
Whatever the squiggle becomes, the children should then write a detailed story with interesting word choices and - like a squiggle -- a beginning, middle and end.